How To Use Influencers To Boost Your E-Commerce Sales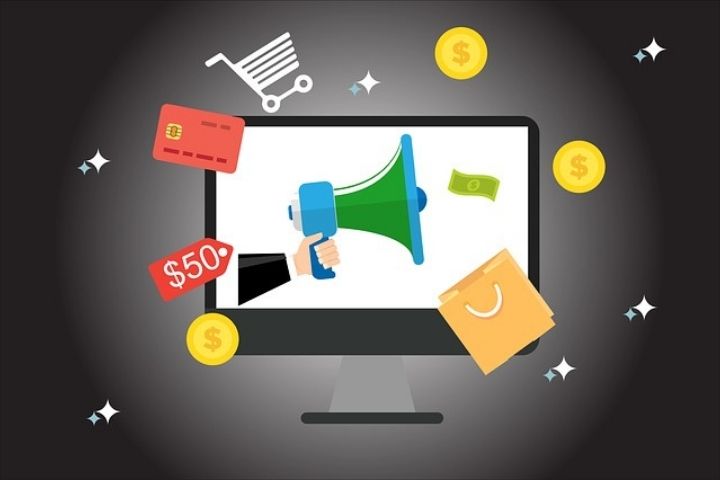 E-commerces tend to rely completely on digital marketing to get their name out there. One strategy that can help e-commerces boost sales is to find influencers who align with their brand to collaborate with on social media campaigns.
Influencers can help you reach new niche markets, whether categorical or geographical. They can also help you market your products in a more authentic way, which appears less like an advertisement and more like a recommendation from a peer.
However, success at influencer marketing depends on how your e-commerce structures its campaign. So let's take a look at what steps you can take to use influencers to boost your e-commerce sales.
Strategically Define Your Campaign
Like with any marketing strategy, you have to define the aspects of your campaign. Start with this question: What is your objective? In this article, we're talking about an objective of increased sales, but you could also have campaigns with objectives like building brand awareness, or increasing your social media followers.
Next, establish your target audience. Think about the people you want to reach and the demographics they belong to, like age, gender, location, language and interests. When you start searching for influencers, you'll want to look for those who can connect you with this target.
Finally, consider campaign logistics like the schedule and budget. Is your campaign timeline tied to specific events, like a new product launch or special sale? And how much do you have to spend on influencer incentive? Remember that you can pay influencers two ways: with monetary fees, and/or with free products, services or experiences.
Find The Right Influencers
When you have your campaign details ironed out, you can start searching for influencers. There are three places you can search:
Directly on social media (the cheapest, but the most labor intensive)
With an influencer marketing platform (subscription-based, with search and analytics)
Through an influencer agency (expensive, but the most hands-off for you)
You should do some research into these options and decide which works best for your e-commerce. However, regardless of the discovery method you choose, analyze influencer profiles and their performance-driven metrics. It's not enough to look at the number of followers; you should also look into:
Follower growth over time – to check how they accumulated their followers
Engagement rate – to understand the level of interaction with their followers
Followers/following ratio – to see if they're using the follow/unfollow tactic
Audience demographics – to make sure the influencer's audience matches your target
Audience authenticity – to verify that they're audience is real, and not made up of bots
An engagement rate analysis from an influencer marketing platform. Engagement varies based on social network and number of followers, so always compare an influencer's engagement rate against the average for their peers.
It's important to analyze these metrics because unfortunately, influencer fraud exists; it's actually a top challenge among marketers. If you're not sure how to notice influencer fraud, read up on some ways to detect and avoid fake influencers by analyzing the performance metrics mentioned above. With this knowledge, you can make more confident decisions when selecting influencers.
Also, keep in mind that any influencer you decide to collaborate with should also align with your brand. This can't be tracked with data, so you instead have to look at their content, style and tone of voice. Use your gut instinct: Does this influencer's personality match with your brand's mission and ideals?
Send Influencers Products They're Excited About
Once you have found some influencers that fit with your brand and have healthy metrics, reach out to see if they are interested in collaborating. Explain your campaign, and negotiate the amount of publications and value of incentive. No matter how you pay influencers, e-commerce collaborations should always include products that the influencers can review in their content.
For the influencer to be as excited as possible, consider giving them a voucher to use on your site. This way, they can pick out the items they like best, and which best represent their unique style. If you're promoting a specific product, confer with the influencer about which variation they prefer (think color, size, pattern, etc.). The more an influencer likes your product, the more likely it is they'll create exciting, engaging content.
Use Influencer Coupon Codes
When negotiating, tell the influencer about any publication guidelines you have. Maybe you want them to use specific mentions or hashtags in their posts. If you want to boost e-commerce sales, you should definitely use influencer coupon codes in your collaboration strategy.
This type of coupon is specific to each influencer working with your brand. The influencer shares their code with their followers, who can then enjoy a discount on your products. People love a deal, so this is a great way to encourage sales. And even when followers don't buy, it can still get them on your e-commerce site to browse your products, which helps raise brand awareness.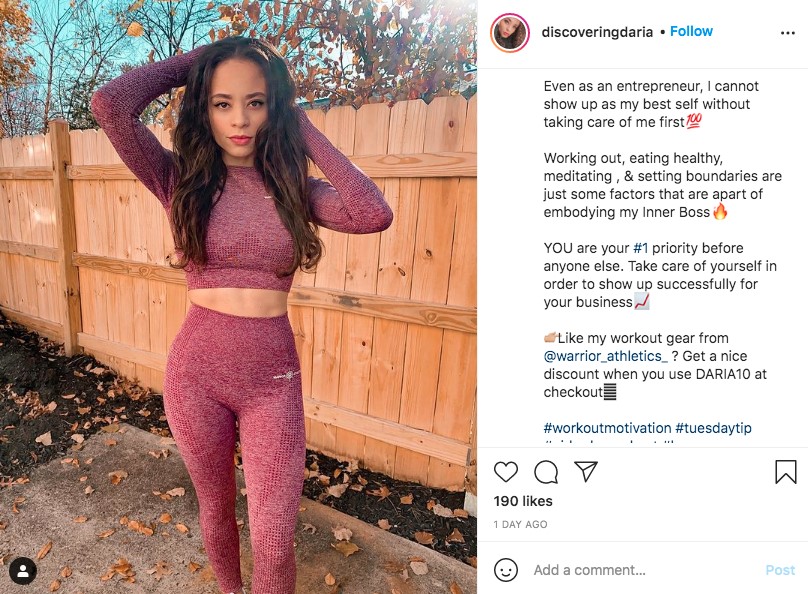 Nano influencer @discoveringdaria wearing a workout outfit from @warrior_athletics_; in the caption of her photo, notice the coupon code DARIA10, which gives her followers a discount on the brand's website.
When creating influencer coupon codes, keep a few things in mind:
Identify the influencer. When you look at the codes, you want to be able to know which influencers they belong to. Using influencer names is a good way to keep track.
Keep it simple. Many followers will be able to cut/paste, but for those who can't, you don't want them to abandon their cart because of an overly complicated discount code.
Use all capitals. This eliminates confusion between lowercase characters, like rn or m. Also, block caps make the code stick out more.
Later on, influencer-specific coupon codes help with tracking sales. As each code is unique, you can see which influencer brought in the most sales. And if you launched your campaign on various channels, you can compare to see which social network was the most profitable.
Track And Analyze Your Campaign
Before your campaign launch date, ensure that you have a way to track your results. An analytics tool like Google Analytics can help you see traffic, clicks and sales that come in through influencer content.
You should also collect the media the influencers publish for your campaign. You can do this by monitoring brand mentions and hashtags on social media. Or, you could get campaign monitoring software to collect media and results for you.
After the campaign ends, analyze your results to see if you've been successful. Success is relative, so you should compare your results directly to your investment and objectives.
For example: Imagine you paid an Instagram influencer $200 to promote your new line of water bottles, each which costs $20 with the influencer coupon code applied. To recover your investment, the influencer would have to bring in 10 sales. But, turns out the influencer actually sells 20 bottles, putting your revenue at $400. In this example, you've netted a profit of $200, so your campaign has been a success!
Take Away
If your e-commerce is looking to boost sales, try out influencer marketing. Just remember that in order to find success with this strategy, you have to clearly define your campaign objectives, and then find the right influencers to help you work towards achieving them.