4 Best Practices For Maintaining Data Integrity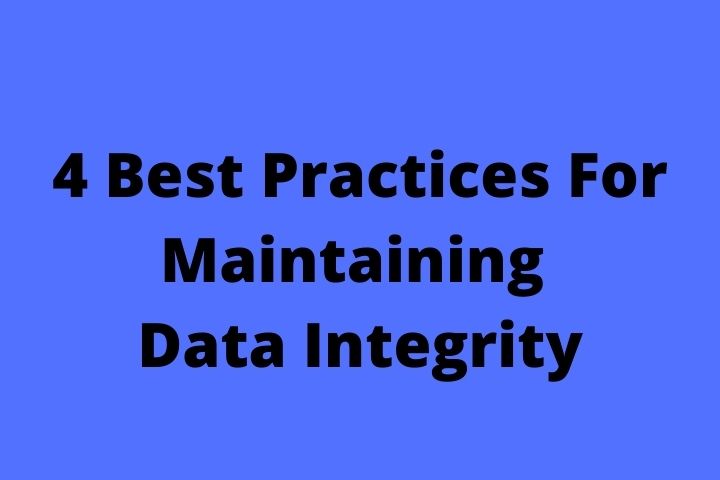 Through the steps that we propose, if you plan to achieve 100% data integrity, you will be sure to have 100% trust in your organization.
Maintaining data integrity is an essential component to maximizing the power of your customer and prospect database.
It is very possible that your data will never be perfect. But it is possible to get close to perfection by making data integrity a priority . To do this, the organization must focus on a few best practices to instill trust in the data. Otherwise, without having a proven track record of trustworthy data, you will never have full confidence in the business value of the data.
Data integrity should be a requirement at every stage of every business process . The organization needs to ensure that its data is useful to all stakeholders, all the time.
A first step to know if you are on the right path to ensure data integrity is to start by answering some basic questions:
When data quality problems are discovered in your organization , are you able to react quickly and appropriately?

Does the organization have adequate systems, processes, tools, training, controls and monitoring to anticipate problems and correct them?

Do you have the resources to tackle the problem?

Have these mechanisms been communicated to the rest of the company?
Who Does The Data Belong To?
There are a number of people within the organization that data integrity relies on to meet its goals. These are usually the:
In larger organizations, however, there are additional people even more intimately connected to data integrity :
Data Controller – Controls the information, including the right to manage and delete data. It is responsible for the data in the source system or system of record. It has an abstract view of data, focusing on relationships between tables, roles, or structures.
Application Manager – Ensures that the application meets the specified goals and user requirements. It is also actively involved in application streamlining efforts and appropriate security safeguards. You are also well positioned to communicate with other stakeholders. IT tends to communicate in technical language and often imposes technical requirements. The business, on the other hand, communicates through commercial terminology without fully explaining its processes. The application manager must be fluent in both languages ​​and understand the particular needs of each team.
Maintaining data quality across the enterprise
Data quality and integrity issues arise when data is shared, replicated, archived, transferred to a data warehouse for reporting, or sent to another system. The needs of business users differ, resulting in conflicts due to inconsistent data models between systems. As data quality issues occur, new rules will need to be applied.
And this is where a third important role appears:
Data Steward – This takes responsibility for data definitions, context, resolution of inconsistencies between business functions, and appropriate business guidelines. He also oversees the safe custody, transportation and storage of data and the implementation of those rules. It is your job to explain the official standards and descriptions to the various managers and stakeholders throughout the life cycle.
4 Best Practices For Maintaining Data Integrity
Assign a business manager and an IT manager for each system of record or source system .
Train those responsible to take action in the event of a problem.

Establish service level agreement (SLA) monitoring and alerting for origination, registry, and middleware systems.
Appoint a data steward to inform all stakeholders about data definitions, standards, and rules.
Publish business terms in a searchable glossary, accessible with simple desktop tools.

Create a repository of relationships between data so that the movement of data between systems is transparent.

Monitor
Create data quality dashboards for individual key elements.
Configure data masking , encryption, virus detection, and other security measures.

Develop impact analysis so you can forecast problems before they arise and find solutions before it's too late.

Have adequate global change management procedures in place so you can quickly recover if any changes cause problems.
Establishes a regulated system for data archiving, retention and destruction.
Protect even outdated data by implementing security measures.

Automate processes to eliminate arbitrary data decisions and the possibility of inconsistent and unreliable data.
Poor data quality can result in any number of other negative outcomes: higher costs, business process failures, poor business decisions, poor customer service.
Using the steps above, if you plan to achieve 100% data integrity, you can be sure that you have 100% trust in your organization.
Also Read : Customers