Headless Trading With Ecommerce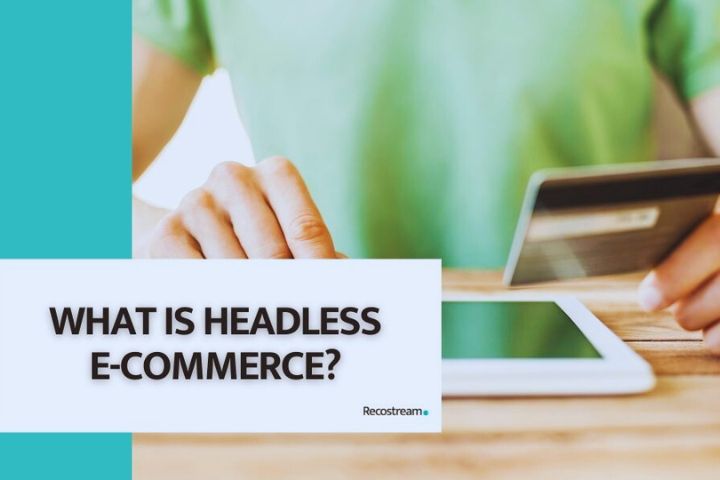 Headless Trading with Ecommerce : In the last decade, the world of e-commerce has undergone a tremendous change: the explosion of mobile commerce, the birth of social commerce, and the market dominance exerted by the e-commerce giant Amazon … Not to mention the behaviors and consumer expectations, which are constantly changing.
So how can online retailers keep up with new trends and respond quickly to technological change? And how can e-commerce platforms meet the demands of modern customers?
The answer is headless trading.
Headless commerce architecture is the decoupling of a website's front-end presentation layer (which includes things like text colors and styles, images, charts and tables, buttons, etc.) from the e-commerce functionality of the website. back-end (pricing, infrastructure, security, payment, etc.).
According to Forbes, more than $1.65 billion in funding was raised for headless technologies between 2020 and 2021 alone, and as more e-commerce companies race to keep up with current trends, this number is set to grow.
Traditional Electronic Commerce:
The most traditional e-commerce model is the monolithic model that we mentioned earlier. Before headless commerce came onto the scene, many brands employed a monolithic strategy and were even recommended by numerous agencies for well-established companies and businesses.
What Is Headless Commerce? Is It Suitable For Your Online Store?
Headless trading suits businesses when they need trading features. Brands can provide API-driven experiences through a CMS system, digital experience platform, app, device, or custom front-end using BigCommerce's technology for the commerce engine.
With headless commerce, brands can create e-commerce experiences using powerful APIs (Application Programming Interfaces).
From highly customized sites built with React.js or Angular to CMS, you can easily make your work more engaging to meet even the most complex commerce requirements. Brands don't have to compromise their content to combine it with agile and flexible e-commerce.
Business-oriented or business-first models use APIs for data organization and provide relative control to IT teams for infrastructure connectivity. On a SaaS platform, the number of API calls available is important to make sure this works properly.
Open SaaS Is a SaaS Platform Architecture Option That Includes The Following:
Unlimited or high volumes of API calls.

Multiple endpoints.

Well-documented developer docs.

A strong focus on API development in building the product roadmap.

For platforms employing monolithic technology, the front-end or presentation layer and the back-end or server are combined into an all-in-one solution. While this makes setting up your online store easier and more straightforward, it could create some complications for larger companies.
For this reason, many companies are moving from a monolithic approach to a MACH strategy.
MACH is a type of modular architecture whose acronym stands for Microservices, 
API first, 
Cloud-native SaaS, and 
Headless. 
Unlike a monolithic architecture, which lacks the flexibility to quickly adapt to digital change, the MACH architecture allows you to choose the technology that best suits your business and future goals. Click here to learn more about going headless with BigCommerce.
Benefits Of Headless Trading
There are several benefits to using an e-commerce strategy that is both commerce- and content-oriented.
Content and experience-driven strategies using headless commerce can provide brands with:
Advanced technologies to create fast and visionary websites.

Flexibility and familiarity for front-end developers.

Full ownership of the site architecture.

Marketing effectiveness for innovation without damaging back-end processes.

Conversion rates and lower customer acquisition costs.

In addition, headless commerce opens up a world of possibilities for brands that start from a content-based strategy. There are literally no limitations to the customizations that can be created in the digital e-commerce space.
Let's take a look at some of the biggest benefits of headless trading.
Flexibility and familiarity for developers.
Headless commerce allows brands to choose the eCommerce platform that works best as the engine for their online store, and at the same time allows them to work with the interface of their choice, be it a CMS, a DXP, a PWA or a custom solution.
BigCommerce makes it easier for developers to build custom headless solutions (and for merchants to discover and incorporate them) with our Channels Toolkit. It allows merchants to find and manage headless online stores directly from the BigCommerce control panel, reducing the technical list and saving development resources. If a development team has a certain technology or programming language that they feel comfortable working with, headless allows them to keep what works with their workflow while streamlining their processes and building efficiencies.
Last conclusions
In our survey with Retail Dive, 60% of participants identified two strategies as the most important for managing or reducing customer acquisition costs: creating content to publish through their own channels and improving their overall digital experience.
As we continue to move toward a content-driven, commerce-fused, experience-driven relationship marketing model, we must be extremely agile and highly adaptable in order to thrive.
After all, the only constant changes.
SaaS eCommerce solutions allow you to quickly adapt to change while achieving lower total cost of ownership, faster time to market, increased security, and everything you need to deliver a world-class online shopping experience. Open SaaS and headless solutions offer a way to achieve all of this with more flexibility and choice when it comes to the front end you use. If you want to learn more about how to use headless commerce to power online stores based on content and experience, check out BigCommerce's headless commerce solution.