The Best Free Video Editing Softwares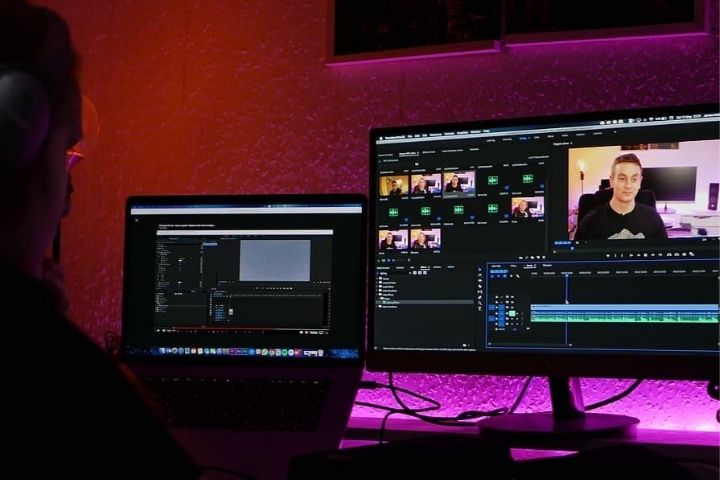 Don't want to pay for video editing softwares like Adobe Premiere or Final Cut Pro? Discover the best free editors for Hollywood-level results.
To edit a video, whether professionally or amateurishly, you don't need to break the bank. Programs like Adobe Premiere or Final Cut Pro can be very expensive, but here you will find free alternatives that will not disappoint you.
Zero-cost applications have practically the same features as paid ones, such as animations and special effects. Some video editor on this list has even been used in the production of Oscar-winning films, in the British television series Red Dwarf or in videos for NASA. The best free video editing programs are:
Blackmagic DaVinci Resolve 16
We still can't get used to the idea that the Australian company Blackmagic continues to offer a free version of its DaVinci Resolve program. This application is very popular in Hollywood for color correction in movies, a feature that you will also find in the free program. However, in recent years the company has struggled to show that they offer much more.
Obviously, the free version does not offer all the features that we do find in DaVinci Resolve Studio, but both will allow you to maximize your time thanks to the 'Cut' page, where you can quickly edit your audiovisual material.
The company has not replaced the classic 'Edit' page with this one, but rather serves as a compliment. For a more complete edition, you will continue to need the unique features of the editor of a lifetime, which is very complete.
It is a very high-quality program, surely the most recommended on this list. With it, you can not only enjoy its video, color, and audio editing tools, but it also has visual effects for professional post-production work.
Basic Specifications
Compatibility: Windows, macOS, Linux
Visual Effects: Yes
Video formats: ArriRaw, AVC HD, AVI, CINE, CinemaDNG, Cinema RAW Light, Cineon, DNG, DPX, easyDCP, JPEG, JPEG 2000, MPEG 2, MP4, MXF OP-Atom, MXF OP1A, OpenEXR, QuickTime, RED, TIFF, VRV
Extra accessories: No
Tutorials: Yes
Avidemux
Thus, Avidemux is intended to be used as a complementary way to another video editor. With Avidemux, you can add effects, trim, and adjust the colors of the clips that you will later put together with another program to create your film.
While importing a video, you can change the position markers to crop it and review the result in the preview window and using the tool to navigate through it plane by plane.
Despite not being able to insert more than one video at the same time, you can add an audio clip, such as a song or the voice-over that must be superimposed on the ambient sound in a certain scene.
When you edit a video, you can add frames of different styles and sizes, a logo with effects, change the speed of a shot, crop, readjust the size, rotate the video, or include transitions at the beginning and end.
In this sense, Avidemux can be useful to convert video that you have recorded with different cameras to the same format. Of course, you also have to know that error messages are frequent, so we recommend not using it excessively.
Basic Specifications
Compatibility: Windows, macOS, Linux
Visual Effects: Yes
Video formats: AVI, ASF, WMV, WMA, FLV, MKV, MPG, MPEG, TS, MP4, NUV, OGM, MOV, 3GP, VOB, WebM, Cinepak, DV, FFV1, H.263, H.264 / MPEG-4 Part 10 AVC, H.265 / HEVC, HuffYUV, MPEG-1, MPEG-2, MPEG-4 Part 2, Motion JPEG, MSMPeg-1 v2, RGB, YV12, Snow, Sorenson Video 3, VC-1, VP2, VP6, VP8, VP9, ​​Windows Media Video 8, Y800
Extra accessories: No
Tutorials: No
Blender
The Blender application is a very powerful free tool, especially for creating animation and three-dimensional models. In fact, it has been used for this on the History television channel or in many commercials.
If you opt for this program that was also used in the special effects storyboards of the second part of Spider-Man, you will also take home a great video editor that can do much more than animated cinema.
You can place clips on the timeline, edit their duration, superimpose them on others, and complement it all with transitions and fades. In other words: everything you can find in any other video editing softwares.
Among its functions, you will also find the possibility of adding motion tracking in 2D and 3D, making a montage with animated objects and real images, as well as correcting recordings with the calibration of the lens or the stabilization of the image.
It may be a bit more difficult for you to answer your questions about its use on its own website. Now, in general, you can find an answer to everything in one of their forums, as in this one designed for Spanish-speaking users.
Basic Specifications
Compatibility: Windows, macOS, Linux
Visual Effects: Yes
Video Formats: AVI Codec, AVI Jpeg, AVI Raw, Frameserver, H.264, MPEG, Ogg Theora, QuickTime, Xvid, MPEG-1, MPEG-2, MPEG-4 (DivX), AVI, DV, Ogg, Matroska, Flash, WAV, MP3, HuffYUV, DV, Flash Video, FFmpeg Video Codec # 1
Extra accessories: No
Tutorials: Yes
Lightworks
The recognitions that the edition of The Wolf of Wall Street received would not have been possible thanks to its editor Thelma Schoonmaker, but neither to the program is used: Lightworks, also very popular in Hollywood.
There is both a paid and free version. The latter, although also highly recommended, has certain limitations in terms of the number of video export formats such as the resolution of only 720p.
Also don't expect to find templates, title creation, or other effects of the style, since this application focuses on precision tools and video management, which you can easily search, organize, and tag.
Thus, it is ideal for long movies that include very short clips. In fact, this option – as well as the editing tools – seems almost impossible in other editing programs on this list.
The flexibility it offers when chaining several scenes is excellent and you can even place the audio of a video in another part of the timeline without any complications. Of course, there is a limit to the transitions you can put between clip and clip.
If you are a professional video editor looking for a free alternative, Lightworks is for you. If Hollywood workers use it, why not give it a try today?
Basic Specifications
Compatibility: Windows, macOS, Linux
Visual Effects: Yes
Video formats: MXP OP1a, MXF OPAtom, QuickTime, AVI, MTS, M2TS, M2T, MPG, MP4, WMV, TS, M2V, ASF, VOB
Extra accessories: No
Tutorials: Yes