The Importance Of Learning Azure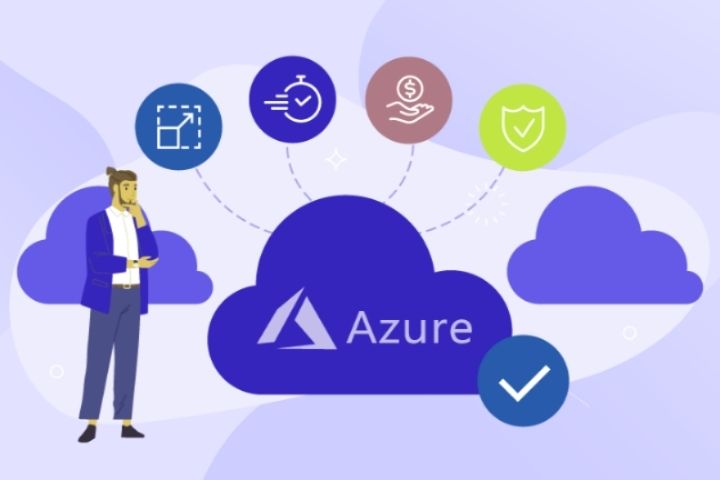 Azure is the most popular cloud computing platform that has limitless potential and possibilities. It involves IaaS (Infrastructure as a Service), PaaS (Platform as a Service), and SaaS (Software as a Service). Azure is used for services like storage, networking, virtual computing, analytics, etc. It can also be used to supplement or replace on-premise servers. It has more than 200 cloud services and products that can bring new solutions to life. So it can solve challenges and create a brighter future. 
Azure's Known Facts- Azure is powered by Microsoft. It is a fast, affordable, flexible, and open platform for Paas, IaaS, and SaaS services. It can move compute resources up and down as needed. Azure provides reliable services with 99.95% availability SLA and 24/7 tech support. Its services are economical and affordable as you pay for what you use. It is an open platform that supports almost any OS, tool, language, or framework. Azure has advanced site recovery and built-in integration so it can enhance and implement backup and disaster recovery. It helps to host and develop web and mobile apps. 
You can build, manage, and run many applications across multiple clouds, at the edge and on-premises, with the frameworks and tools of your choice. Here Azure certification can help you learn and master all the skills required to become an expert in this domain. This article will tell you more about the benefits of learning Azure and career opportunities after learning Azure. 
Why Learn Azure?
In today's digital era several organizations are enjoying Azure's hybrid compatibility, that is why IT professionals are expected to get a Microsoft Azure certification. There are several reasons to get a Microsoft Azure Certification that can be beneficial to gear up a candidate's career graph. So you can catapult your career and gain opportunities by becoming Microsoft Azure Certified.
Flexibility-

This certification gives you clear flexible career opportunities to move and grow with Azure. It enables you to pursue a wide range of career options. It helps secure credible roles like developer, cloud administrator, security engineer, data engineer, AI engineer, DevOps engineer, solution architect, etc. So this certification is very important when you are thinking about a career in cloud computing. 
Higher and Attractive Salaries-

With this certification, a certified candidate can get higher salaries and better recognition in the market. They can get attractive salary packages compared to non-certified professionals. The average salary of an Azure developer is around $136,768, and for an Azure Architect is $152,879 per year. 

Fast and Structured Learning Process-

This certification offers you a fast and structured learning process that lets you learn many different tools easily. It provides a concise learning approach for certifications. So students can improve their career and learning path with its faster learning process.
Lower IT Costs- A certified Azure expert can reduce IT cost through effective scaling and managing the hosted area. So they can reduce costs in many critical sectors such as new software redesign, power utilization, and maintenance of information security systems.  
Progressive Career Development-

Microsoft Azure is providing top cloud services and twelve role-based Azure certifications which can fulfill market requirements. With these certifications, you can ensure better recognition and professional career development in the IT world. It offers a wide range of job opportunities including the Azure administrator, developer, AI engineer, security engineer, etc. There are 6,000,000+ government employees who are using Azure services worldwide so the demand for Microsoft Azure certified professionals is increasing. 
Better Security offerings-

Microsoft Azure Security Technologies certification offers better security that can prepare you for a position as an Azure security Engineer. Therefore you can manage and secure cloud-based solutions and may secure hybrid cloud solutions as part of an end-to-end infrastructure.
Improve your IT Skills-

 Azure certification can also improve your artificial intelligence skills. There is a high demand for AI professionals in the cloud market also, as a result, there is also high demand for AI engineers who are comfortable working in azure. This certification is ideal for experienced AI engineers interested in developing AI solutions in Azure. 
So these are some of the important benefits of achieving Microsoft Azure certification which can help you explore your potential and skills in Azure. 
Career Opportunities After Learning Azure
There are several bright career opportunities available for candidates after achieving certification in Azure. These cloud services lead the market in IT. Some of them are mentioned below.
Azure Cloud architect-

With this job title, there is a connection with engineers and clients while offering an interface with stakeholders and technical leaders. A cloud architect works with other technical architectures and leads the implementation to make sure that the diverse spread of new technology is enacted. 
Microsoft Azure security Engineer-

This job role is a good option for candidates who want to work with security on Azure.  This job title can showcase your abilities in securing apps, networks, and cloud data.
Cloud Administrator-

Their main job is to install, function, and monitor systems on the Microsoft Azure platform. So if someone has an interest in operating, managing, and installing on cloud-based programming, enroll in the Azure certification today to become a successful cloud administrator.
Cloud developer-

The aim of a cloud Developer is to develop software for business. If a candidate has a good amount of experience and some good knowledge of Azure then there are a handful of job opportunities. Azure Developer certification can help you move ahead in the career path as a cloud developer. 
Microsoft Azure DevOps engineer-

With this certification, DevOps professionals can bring their processes and people closer to meet the business objectives and requirements for azure.

Azure Big data Specialist-

They design and implement big data services in a manner that value can be derived from the data. Achieving the special certification for a big data specialist post can make you become the number one choice of employers.
Azure Networking specialist, Key account manager, Microsoft data engineer, Microsoft data scientist, Azure AI Engineer,  Cloud sales, and purchase manager are a few more posts available in the cloud market after achieving certification. 
Conclusion
Getting a certification in any part of Microsoft Azure is the best way to help you see results in the form of opportunities and growth. As Microsoft services have gripped the market, hence the azure certification is highly valued. So try to get any Azure certification of your choice and showcase your abilities in the evolving cloud world.