What Makes Food Photography Effective?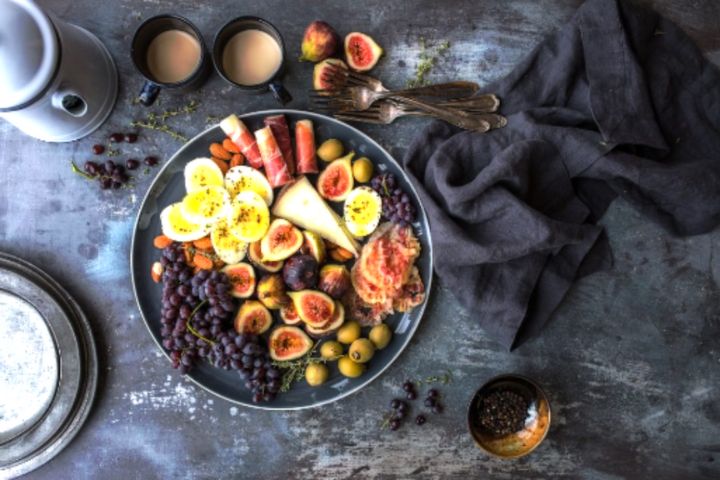 Due to the regular opening of new cafes and restaurants, the competition between them is growing to another level. This has also made it tough for the new to make some good presence in the market and grab the attention of the customers. Where businesses keep looking for effective ways to attract more customers and improve their sales, customers prefer those that look affordable and have attractive websites and social media pages. 
To grab the required attention of the customers, food and beverage businesses have to make high efforts. No doubt, taking great photographs of food seems to be easy, but is a job that requires hard-earned skills. Before placing a food order, customers wish to see the meals. Meals that look attractive and tasty are preferred more than those that look sober and pale. With this, the pictures of the food speak a thousand words. This further makes it essential for businesses to make sure they are using the best food pictures for their business advertisement and promotions. 
To get the desired results, food and beverage businesses have to make sure that their restaurant or business food photography is top-notch. Those who understand the importance of top-notch food photography never take any kind of risk and thus prefer professional food photographers for the job. 
Professional food photographers use their skills, experience and knowledge to bring a lot to the table. The photography results of these experts are much different and useful from DIY food photography. Some common things that help professional food photographers make food photography effective are listed below.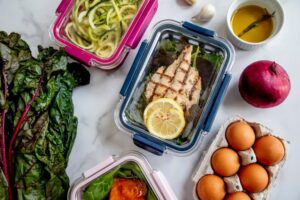 Use Of The Right Lighting
The benefits that a food and beverage business gets with the use of menu pictures of the food highly depend on the lighting. Clear and bright food pictures not only just look attractive but also helps to make the food look tasty. For tasty pictures, food photographers pay high attention to the lighting. They make sure not to use fake/artificial lighting and prefer abundant and free natural light as much as possible. 
The indirect and natural light that comes from a side or back creates the best photos. It also diffuses sunlight and shadows that make the food pictures look dull, uncleared or too bright. The use of natural lighting for food photography help experts create beautiful, and attractive photos that are shadow and highlight-free.
Use Of Better Angles
During food photography, the objective of the food photographers is not just to take the best food pictures but also to make sure that the food photos they will take can be used easily for different purposes. As long as the lighting setup is not limited to one side, there are many things that one can do for food photography. For food photography, professional food photographers make sure they will use the best angles. They try their best to prevent shadows and highlighting. 
Investigating the effects of backlighting, front lighting, and side lighting on the backdrops for food photography help food photographers choose the right angles for photography. The use of side lighting help to display the textures and contrast of the food. It also makes the details of the food stand out and makes food photography effective.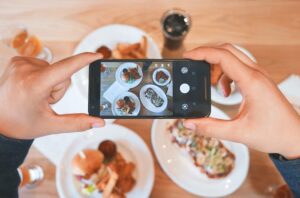 Simple Backgrounds
Professional food photographers have high experience in working with the background. These experts make the best use of backlighting, which usually requires a lot of practice to master. To make food photography effective, they pay good attention to the background and make sure it is exactly as per the requirement. 
The use of plain and simple backgrounds for food photography always turns out to be the best to avoid distractions. Simple backgrounds such as light backgrounds, dark backgrounds, and wood are usually used for food photography. These backgrounds prevent the risk of distraction from the main subject of the photo. Many people avoid simple backgrounds with the misconception that the use of attractive backgrounds will help them take attractive and bold food photos. But simple backgrounds help to shift attention to the food. It also highlights its exquisite details. 
Use Of Fresh Ingredients
The use of fresh ingredients is not just important to make a dish tasty and healthy but also to make it look tasty and attractive. Fresh ingredients help to make a dish look perfect. Fresh ingredients not just add beauty to the food photos but also makes food photography effective by making the dish look beautiful and preventing the need for extra work. 
Food Garnishing
Just like fresh ingredients, food garnishing also helps a lot in making food photography effective. Some foods such as curries, stews, soups, or other dishes that include a good amount of sauce or liquid need extra effort in the form of garnishing to make the dish look tasty. A little garnishing of freshly prepared food with fresh herbs, good sauces, coriander, etc. helps to take the best food photos. Along with this, using the best photo editing apps and software to hide all the flaws and make the food photos picture-perfect also helps to make the food photography effective. 
Final Thoughts 
Food photography is one of the most effective ways to make a food business grow. It helps food businesses get popularity and improve their sales and brand value. Where DIY food photography comes with a variety of risks and mistakes, professional photography helps businesses save more. Professional photographers not only just use the best photography equipment but also pay high attention to the techniques, tools, tricks, and methods that can help to make the end results unique and effective. They use their experience to make the best use of props and make the dish/food look tasty and appealing.