7 Ideas To Help You Recruit For Aquaculture Jobs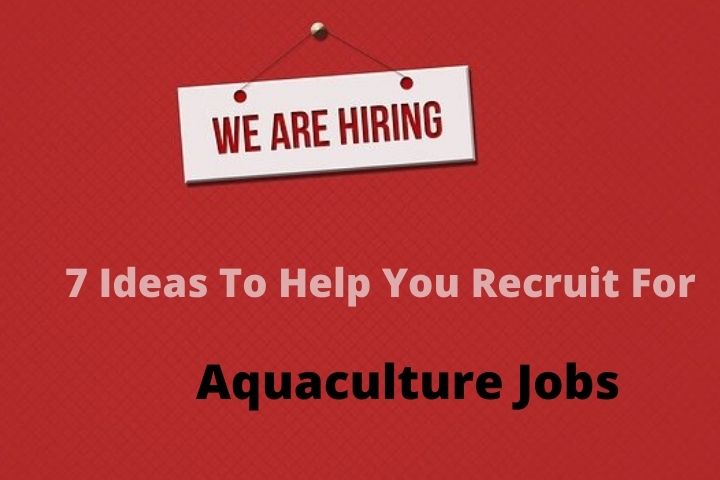 If you are looking for new employees to fill your vacant positions in aquaculture, then this article is for you. Recruiting the right people is crucial in any industry, but it is essential when dealing with sensitive and delicate ecosystems like fish or ocean life. Whether you're looking to hire a new employee or want more information on what it takes to get started in this industry, here are some ideas that will help you recruit for aquaculture jobs. If these types of positions interest you, then read on!
Aim For Quality, Not Quantit
y
It's easy to fall into the trap of thinking that filling your vacancies with anyone is better than leaving them open. However, this can be more costly in the long run when you hire people who are poorly suited to the job, it takes longer for them to become productive, and they are also more likely to leave if they aren't a good fit. By hiring people who are already suited for the position, you will have an easier time with lower staff turnover and increased productivity, which can save you money over the long run.
Expand Your Recruiting Efforts
If you're not getting many applicants for your open positions, it may be time to expand your recruiting efforts. A great way to find new prospects is to utilize social media. Posting on Twitter, Facebook, and LinkedIn can help you reach a larger audience than just those who are already familiar with your company. It would be best to look at posting on job boards such as Indeed or Monster and local job banks/forums.
Look For People With Experience
When looking for employees, look for those who have the skills and knowledge you're looking for. While it may take longer to find someone with qualifications, you will save yourself time and money in training costs by hiring them right off the bat if they are out there.
Ask People If They Are Interested
Someone who is not interested in the position is unlikely to apply, even if it is a great fit. This means that you are missing out on potential applicants for your job posting. Make sure that when you send your advertisement, you also ask whether or not they would be interested in working for your company.
Make The Job As Appealing As Possible To Potential Candidates
This means that you need to advertise all of the benefits of working with your organization, including those that are not financial. This might include career advancement opportunities, professional development courses or certifications, a sense of fulfillment and accomplishment, a strong company culture, or an outstanding work-life balance.
Post Regularly On Job Boards And Forums To Maximize Exposure
Going back to the idea of expanding your recruiting efforts, you must post regularly on job boards and forums to optimize the chance of hiring quality employees. If you only post once in a while, you run the risk of your advertisements being overlooked or buried under other messages.
Build A Great Company Culture
A candidate looking for an aquaculture job might have dozens of potential openings they're considering, so you must stand out from the crowd and build a strong company culture to entice them to choose your company. This will allow you to find the best employees for your team and increase staff satisfaction, invaluable in any industry
This tip is an essential aspect of hiring new talent within aquaculture, but there are some other things that you should consider as well. For example, you should research what types of employees you need and what qualifications they should have to be successful. It would be best if you also researched your compensation packages and whether or not you can offer student/hiring discounts or college internship programs to increase the number of interested individuals. This will allow you to maximize your return on investment when it comes to hiring new employees.
Conclusion
In the end, you must find ways to stand out from your competitors when looking for staffing. Being a little more creative and a lot more persistent can help you hire better-qualified individuals who are an excellent fit for your organization. Building a great company culture is also an integral part of finding quality employees in any industry