How To Choose The Right Smart TV?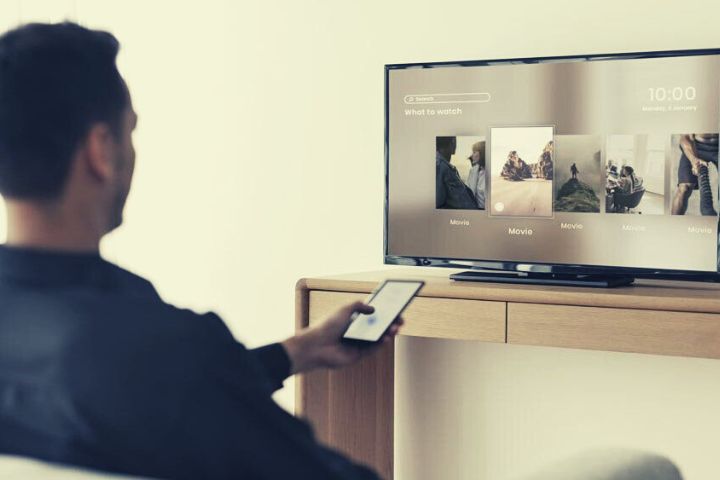 Choose The Right Smart TV : Today, television is one of the essential elements in the living room and on the technology side, manufacturers are constantly pushing the limits. On the market, just in the catalog of smart TVs , we have something for all models and for all budgets. Faced with this panoply, we do not know which one to choose. We can define a beautiful television as one that is able to immerse you in the film. Many people start from this definition when they make their purchase and it is automatically that they make the size of the screen the essential criterion for the choice.
Understand that size isn't everything, and you may very well end up with a 60-inch screen that doesn't have any effect on you, because the image quality isn't there. The smart TV must also be practical and it is for this reason that you should not make concessions on the connection. The other features can also help you decide.
The Screen Size Of A Smart TV
On the description of a smart TV , the screen size is expressed in inches. This value defines the diagonal of the screen, and do the calculation taking into account that one inch is almost 2.54 cm. On the market, you will find smart TVs of 24 inches for the little ones and 85 inches for the bigger ones . If the television is going to be installed in your bedroom, it would be more reasonable to turn to a model that is less than 32 inches.
The size of the screen may vary depending on the brands. Some companies specialize in smaller screens, such as Sharp TVs , while others like Philips make flat screens.
Screen Technology And Resolution Of A Smart TV
In terms of technology, either the smart TV is LCD or it is OLED. LCD technology is the most widespread and from it, we can expect good color rendering. A smart TV with OLED technology is much better in terms of image quality, because we have a high level of detail and high contrast. However, the price of a TV with this technology is not given and it consumes a little more energy than LCD TV.
You can also read in the description of the smart TV HD Ready, Full HD, UHD, 4K or 8K or indications like 3840 x 2160 pixels: this is the resolution. HD ready is the one that displays the fewest pixels, but that doesn't mean that the image quality isn't there. If you have a small 24-inch smart TV , an HD Ready resolution will do, because you'll already be at a million pixels. Today, 4K is the trend and manufacturers can misuse the term by naming their Full HD "4K". The resolution corresponding to "4K" is 3840 x 2160 pixels and that of Full HD is 1920 x 1080 pixels.
Many models have a good resolution quality. This is the case for the brands mentioned above, but also for Panasonic and LG. So that you can form your own opinion, we recommend that you consult our guide to buying the best LG TV , as well as our guide to the best Panasonic television .
Connections
To be able to connect the smart TV to other devices , you must not neglect the connectors. On this TV, there must at least be an HDMI socket for a connection with the computer, a USB port to connect your camera or your hard disk and an optical output for the transmission of an audio signal to an amplifier. As with all other TVs, the smart TV will have the aerial socket. Since it's a smart TV, it should also have an Ethernet port.
Other Smart TV Features
These are going to depend more on your needs and how you plan to use the smart TV. Indeed, if you plan to connect it to your smartphone, for example, it would be wiser to turn to a device that has Bluetooth. The remote control may be a classic accessory, but with a connected TV, the technology is more advanced. You can find a remote control with voice recognition. All you have to do is speak and the TV will turn on.
How To Use A Smart TV?
When you have your smart TV at home , it will now be necessary to look into its use so that it is not a simple flat screen TV. Once it's properly installed, you won't have any trouble turning it on and finding the channels. Don't forget that you have a TV in front of you that can do more, so take the time to read the user manual that comes with it. It will take some time to familiarize yourself with this screen, but once you know how it works and the inner workings, you won't leave it.
1 Connect the smart TV to the Internet
If you have chosen a smart TV, it is surely thanks to the fact that you can connect it to the Internet. For this connection, nothing could be simpler: either you activate its Wi-Fi, you search for the network and you enter the WEP or WPA key for the box as with your computer or smartphone, or you take an Ethernet cable and connect the box and TV. Besides, you won't get lost, because as soon as you activate the Wi-Fi or plug in the cable, the TV will be able to give you directions.
2 Stop using your remote control
With a smart TV, you will no longer use the remote control as you usually do. You can control your TV from your smartphone or tablet. To do this, you must install the brand application for your smart TV on your mobile . You can then increase the volume or change channels on the smart TV in the living room from the kitchen or your bedroom . If you have a remote control with voice recognition, it would also be fun, because you can control the TV just by talking.
3 Install an app on your smart TV
If the manufacturer indicates that you can watch your movies via Netflix on your smart TV , be aware that you do not have the application yet when you buy it. You need to install it. If for smartphones, you have to go to Play Store, for Smart TV, you have to go to the application store which is different for all brands. The icon for that store should be in the menu and once you're there, all you have to do is download and install.