How To Configure Your Conversion Funnel?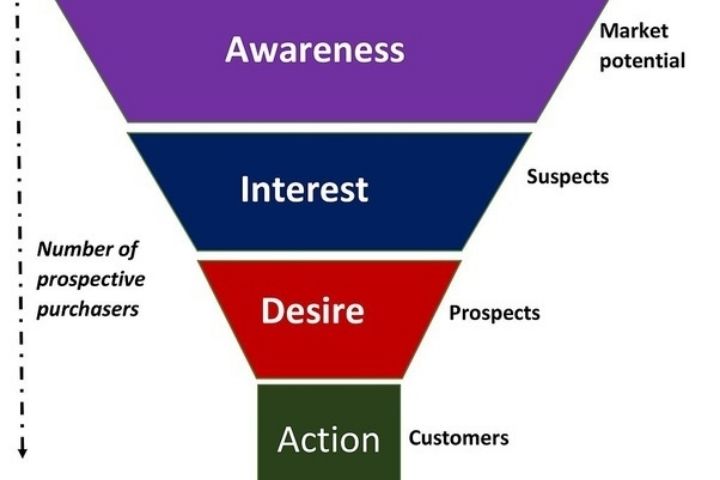 Through web analytics like tools such as Google Analytics, you can measure the impact of actions of your blog, corporate website or online store just by configuring the conversion funnel and orienting it to your targets properly.
Take advantage of the Big Data era to improve your positioning and optimize your resources in your online business. You can discover very relevant information that will suggest how to act and improve your strategy, web design, CTAs (Calls To Action), landing pages and the endless elements that are involved in the purchase process (income, consultation, participation, interaction, acquisition, etc.).
Configuring Your Conversion Funnel?
Configuring is done based on objectives and you will find three options in Google Analytics to configure your conversion funnel, based on them. Register in Google Analytics (Before that you have to link your website with Analytics through the tracking code) and you will click on the following tabs: Administrator / Objectives / New Objective.
Targeting From A Template 
Google helps to see and measure the income received by your online store (placing an order, completed the purchase process, etc.) by default, the acquisition of a record, the consultation of contact information leads and interact your website (that certain content is shared on a social network, subscribers to a newsletter, etc.).
Custom Objectives
These measure four crucial parameters in the online buying and selling processes that will help you improve the user experience, to acquire more conversions. Give the name that best describes your goal and configure the following elements:
Duration: It measures the time it takes for leads to convert.
 Destination: It observes the traffic flow of your leads, before completing a purchase.
 Event: you can also measure, for example, the reproduction of a video or the click to a certain call to action involved in the purchase process.
Pages/screens per session: the number of pages they visit, before paying.

 
Smart Goals
The Advanced functionality provided by Google Analytics lead scoring is elucidated, based on the average duration, the pages visited, their geographical area and dozens of elements that intelligently create a list of the best visits on which to practice retargeting processes.
What Are The Advantages Of Setting Goals
 Setting up the purchase funnel yields multiple benefits. We highlight the following advantages:
Improves Conversions
By configuring the goals of the Google Analytics conversion funnel, you will see a huge amount of data and very valuable information, which will tell you where the main obstacles are in the process.
The immediate effect that the analysis of web analytics reports should cause is your reaction and trying to improve, enhance or avoid your strengths and weaknesses with new actions. For example, if you notice that the conversion is more latent, from a certain territory, you can create additional ads in AdWords, to optimize your area of ​​influence.
Know The Traffic Flow  
Previously, we looked at the performance of advertising campaigns, but the reports of the conversion funnel objectives also provide data on the SEO strategy. How many visitors come from an organic search? And about social networks? How many people type the exact URL into the search engine (direct traffic)? The benefits of the Big Data era (data and more data) are essential to optimize business strategy. Measuring the amount of traffic and knowing where it comes from is vital to discovering the company's real impact on the World Wide Web.
Retargeting
 The reports of the objectives will provide you with personal data, voluntarily transferred, by your leads. Email, phone numbers, and even physical addresses, gender, age, etc. You already have a large database to develop new remarketing actions for, for example, those who have been halfway through the conversion process. 
Invite them to complete it with new email or SMS marketing campaigns. Sometimes, they just need a little push to be finally convinced and get them to pay or register on your website. 
Knowing The Performance Of Marketing Campaigns 
By knowing the traffic flow, you will see where your leads come from. If you have come this far, surely, it is because you have invested money in SEM (Search Engine Marketing) advertising and you need to know how the performance is being, for example, of your AdWords, Facebook or Twitter ads. Analytics will tell you, by examining the reports of your objectives, how many people land on your website thanks to these advertising campaigns. A highly relevant data to modify the copy or, simply, stop investing.