Marketing Trends For Customer Service In 2022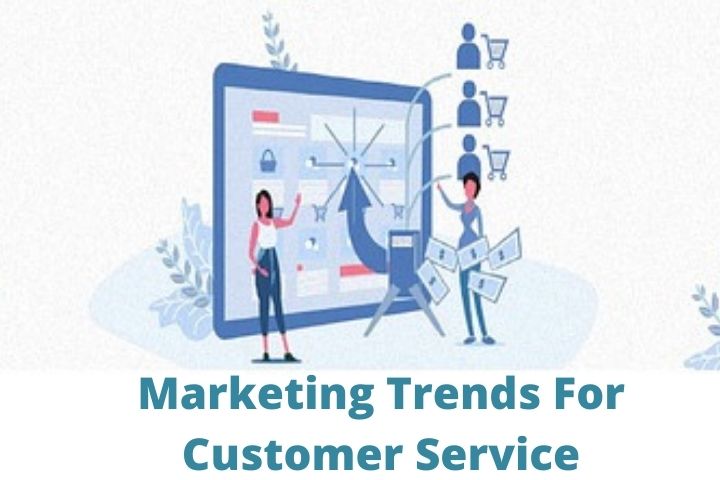 Marketing Trends For Customer Service : The digital transformation has changed the purchasing habits of consumers and their way of interacting with brands. For this reason, digital marketing has become a key element in the operation of companies and their design of strategies for the future. Here are the top marketing trends for customer service in 2022:
Social Networks And Web, The Most Used Channels In Marketing
We always have the question of which channels we should use in our marketing strategy. The more you can cover the better. In fact, omni-quality will be one of the main protagonists in 2022. However, this is not always possible due to lack of employees, investment or time.
Therefore, it is key to know where to start. Marketing experts point out that the use of social networks and the brand's own website are the leading channels in the classification. Close behind are email marketing, content marketing, SEO, paid social campaigns, and textual and display search engine ads. All of these will be trending channels in 2022.
Human-Centric Marketing
Previously, the traditional approach to marketing was focused on the consumer, but this is no longer the case. We are now arriving at a paradigm that puts humanity at the center of everything and addresses people not as consumers, but as whole human beings seeking experiences that please them.
In this new approach, the audience is no longer made up of passive receivers of the content, but of interactive communicators who contribute their personal points of view. Therefore, the success of a brand is no longer measured only in terms of products sold, but also in the strength of the relationships they have with customers.
This human-centric approach must answer three key questions, seeking a balance between human and business objectives:
What can the people who are part of the company achieve?

How do our business decisions affect people?

How can we create value for the people who work in the




company?
Customer Data Platform
Managing customer data is one of the challenges that brands' digital marketing departments face. For this reason, the customer data platform emerges as a solution and becomes one of the marketing trends for customer service in 2022.
This new technology is based on a platform designed to solve the problems of integration, labeling and storage of customer data. The objective is to achieve a unified vision of all interactions on the platform and thus have more information to develop and execute one strategy or another. This is also achieved because the platform grants attributes to generate audiences and 360º profiles of consumers.
Multi-channel Marketing To Connect Digital Experiences
Connecting with customers today means using multiple channels of interaction. Multi-channel marketing can involve creating a blog, website, corporate social media, and using conversational marketing via Whatsapp, as well as hosting webinars, events, or attending conferences.
It is not enough for companies to focus on a single channel; they need an integrative approach that helps create content for each platform so that the brand presence is very present through various channels.
Following the marketing trends for customer service in 2022, companies need to build a strong customer base, using as many communication channels as necessary.
Live Stream Shopping
This is a trend that is not very consolidated in the western world, but in the Asian market it has become a success. During the first half of 2020, a third of China's internet users (about 309 million people) attended a live sales session.
Live trading combines instant purchase of a featured product and audience engagement via a chat feature or reaction buttons. These types of purchases have huge long-term potential for both brands and e-commerce platforms. According to one study, it is estimated that sales initiated by live commerce could represent between 10% and 20% of all e-commerce in 2026.
Real-time Viewing: Video calls, Tours And VR
The pandemic changed the way consumers buy and, although it seems that we are gradually returning to normality, the reality is that some things are going to stay in the future. During 2020 we learned to sell digitally, even in those sectors where the face-to-face factor was more decisive, such as the automotive industry or real estate.
For example real estate portals such as Idealista already offer the possibility of carrying out these tours through the platform to improve the results of their advertisers.
Chatbots And Live Chats To Sell
In part, the world of sales was digitized in the pandemic thanks to chatbots and live chats, tools present in e-commerce. Its inclusion can provide greater proximity between the user and your sales team, creating individualized and effective communications. According to ReveChat, 79% of companies say that including a chatbot has had a positive impact on their sales results and customer loyalty. Some advantages are as follows:
Shorten the lead generation process.

Follow up and personalized offers.

Detects pain points in your buyer journey process.
Personalized Communications
The personalization of sales has become a key point to generate a bond of trust with the consumer. However, this may be more complex to achieve than we think. One example is building smaller, segmented contact lists to almost a one-to-one deal. This includes personalizing everything : content, emails, nurturers, web pages or messages on social networks.
Use Of Big Data And Its Predictions
Data has revolutionized the world of digital marketing because we can see the results in real time and help us improve decision-making. When it comes to selling, exactly the same thing happens. Metrics and KPIs are very useful for forecasting sales and results. Having such a large amount of data at our disposal can help us detect purchase intentions and different problems.
More Investment In Loyalty
With the advent of digitization, we have seen a worrying phenomenon in the world of marketing and sales: customer loyalty to brands is highly volatile. Competition is increasing in all sectors, prices are more competitive and consumers opt for those brands that give them greater benefits and more reflect their way of being.