Top 5 Open-Source Alternatives To Google Docs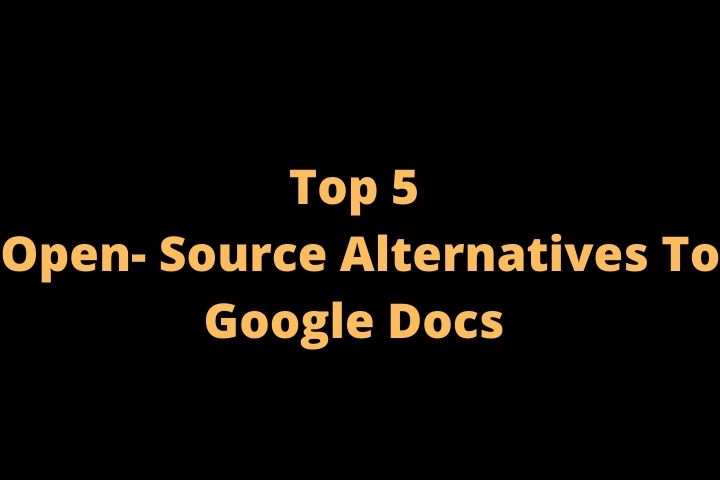 Over time, computers, laptops and mobile phones have become smaller and more portable allowing us to work flexibly on the Internet. For those who prefer this kind of freedom, Google Docs is surely one of the must-have apps. The Google software not only makes it possible for us to bring all of our work online but also allows multiple users to collaborate and work together in real time, which is pretty convenient in many situations.
Google Docs has inspired the creation of many similar online services that focus on certain aspects of collaborative work to ensure your productivity isn't hindered. While the online suite doesn't lag behind other apps with similar functionality, it makes sense to have a look at some of the best alternatives. Plus, many of these apps focus on both collaboration and security, which is very important for many users. So if you need a reliable replacement to the Google software, try out the open-source alternatives below.
ONLYOFFICE Docs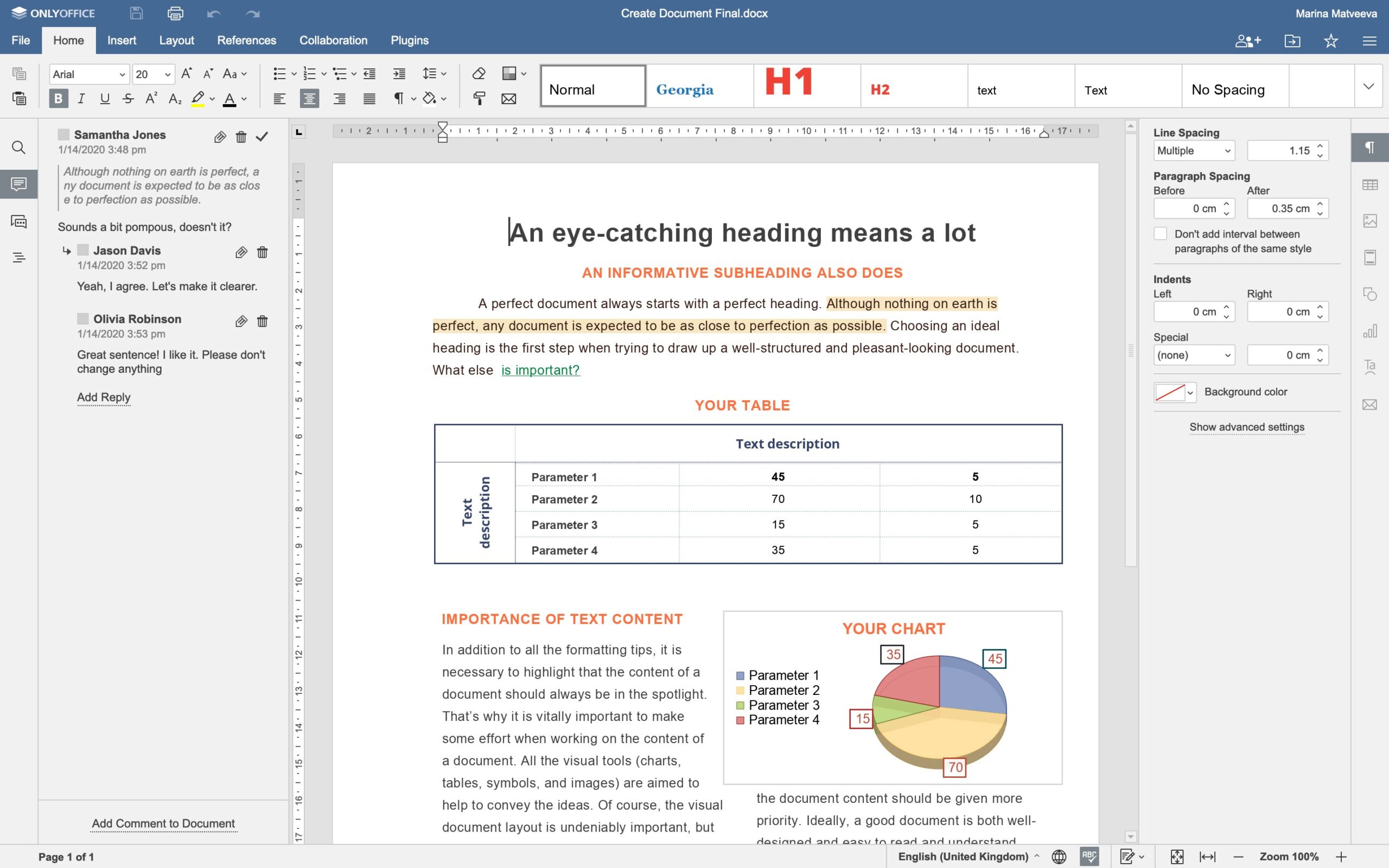 ONLYOFFICE Docs is another great replacement for Google Docs. It has all the editing and collaborative tools that Google Docs offers with an intuitive interface that is similar to Microsoft Office Online. ONLYOFFICE Docs is available as a paid version with a 30-day free trial aimed at small and medium-sized businesses and a free community version with some limitations. There is also a cloud office suite for personal use only that is free of charge.
With ONLYOFFICE, you can create text documents, spreadsheets and presentations that are fully compatible with Microsoft Word, Excel and PowerPoint. The solution comes with a full set of collaborative features – AutoSave, Track Changes, Version History, Comments and Chat. You can share documents using various permission rights, such as full access, read only, form filling, reviewing and commenting. All these tools help you stay focused and prevent you from switching between different applications while working on a document with other users.
What makes ONLYOFFICE Docs great is its integrations capabilities. The solution can be easily integrated into any existing IT environment, and there are official ready-to-use connectors for Nextcloud, ownCloud, Seafile, SharePoint, Alfresco and other file-sharing and document management platforms. The recently added WOPI support makes it possible to integrate ONLYOFFICE Docs into more apps than before.
ONLYOFFICE Docs is a self-hosted solution, so it provides you with full control over your information and documents. Unlike Google Docs, it doesn't share your data with the developer. Jason Web Token, two-step authentication, HTTPS and other security tools make your collaborative environment as safe as possible.
ONLYOFFICE Docs comes with a free desktop suite for Windows, Linux and macOS that is built on the same engine and offers the same interface. Free apps for Android and iOS allow you to stay connected at any time and edit documents on the go.
Etherpad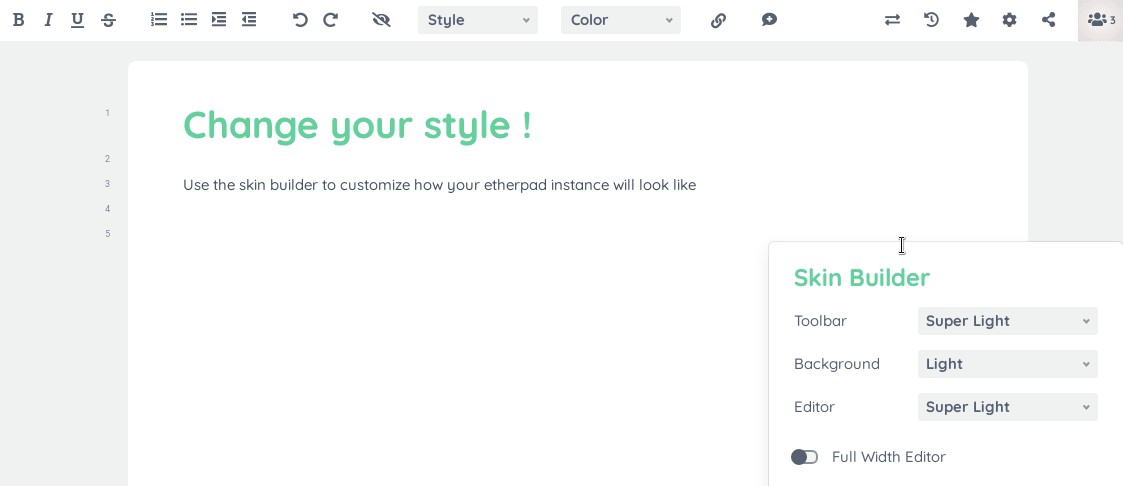 If you work only with text documents and need a simple but reliable tool for collaborative tasks, it might be a good idea to try Etherpad. It is a web-based solution for real-time co-editing of text documents. It is distributed under Apache License 2.0 and can be installed within an existing IT infrastructure or using a third-party service.
Etherpad lets you edit documents collaboratively like other Google Docs alternatives. Using this app, you can create and co-edit documents of any kind, such as articles, press releases, to-do lists, scientific papers, etc. Just share your file with your friends or colleagues and start the collaboration process in real time.
If the built-in features aren't enough for you, there is a number of plugins that help you to customize your Etherpad instance to suit your needs.
To create and collaborate on documents online, you don't have to set up your own server and install Etherpad. You can choose one of the publicly available instances configured by other people from all over the world. The full list of ready-to-use Etherpad instances can be found on the official website. Alternatively, you can install your own instance and enjoy the benefits of collaborative work.
Airborn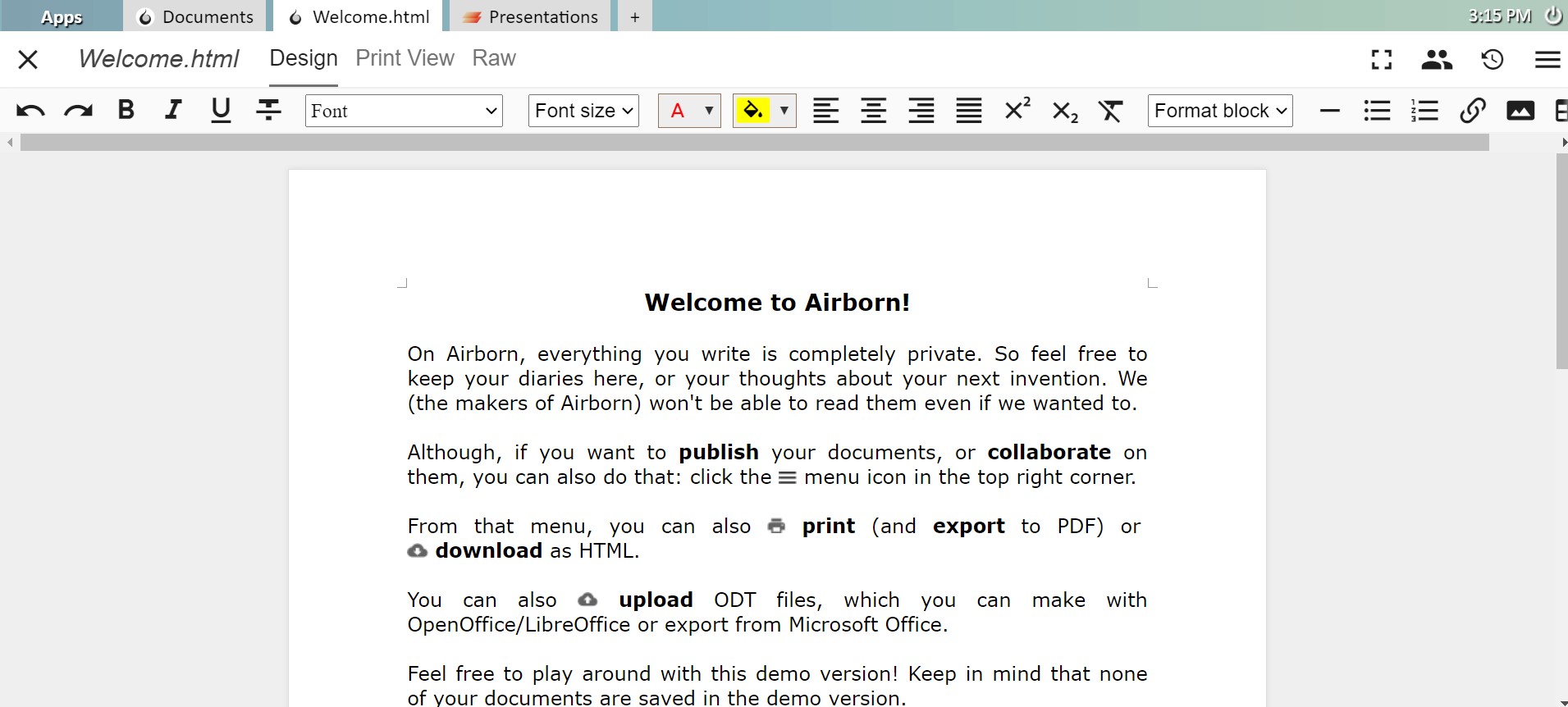 Airborn is another secure online office suite that is not so popular as Google Docs and other similar solutions. The service is free and allows you to create an account that gives you access to a cloud storage where you can create new text documents and presentations, keep the existing ones and even import from Google Drive.
Airborn makes it possible to work together on documents with other users. There are two main options: you can generate either a read-only link or a collaboration link. Thus, you can decide who is allowed to view your file without being able to edit it and who can take advantage of the collaborative features. When you share a document, nobody (even the developers of Airborn) can read your content. For extra protection, there is a possibility to set a password on documents.
While collaborating within an Airborn document you can notice an interesting thing. Only one person is allowed to type in a paragraph at a time. This means that several users can't co-edit the same part of the document simultaneously, which prevents your text from being deleted by someone else.
With Airborn, you can create not only text documents but presentations as well. The app lets you add videos and apply 3D transitions between your slides. Just as with text documents, nobody can see what you type in your presentations, as they are encrypted with AES.
Although Airborn is available for free, there are a couple of paid tariff plans that offer more collaborative features.
CryptPad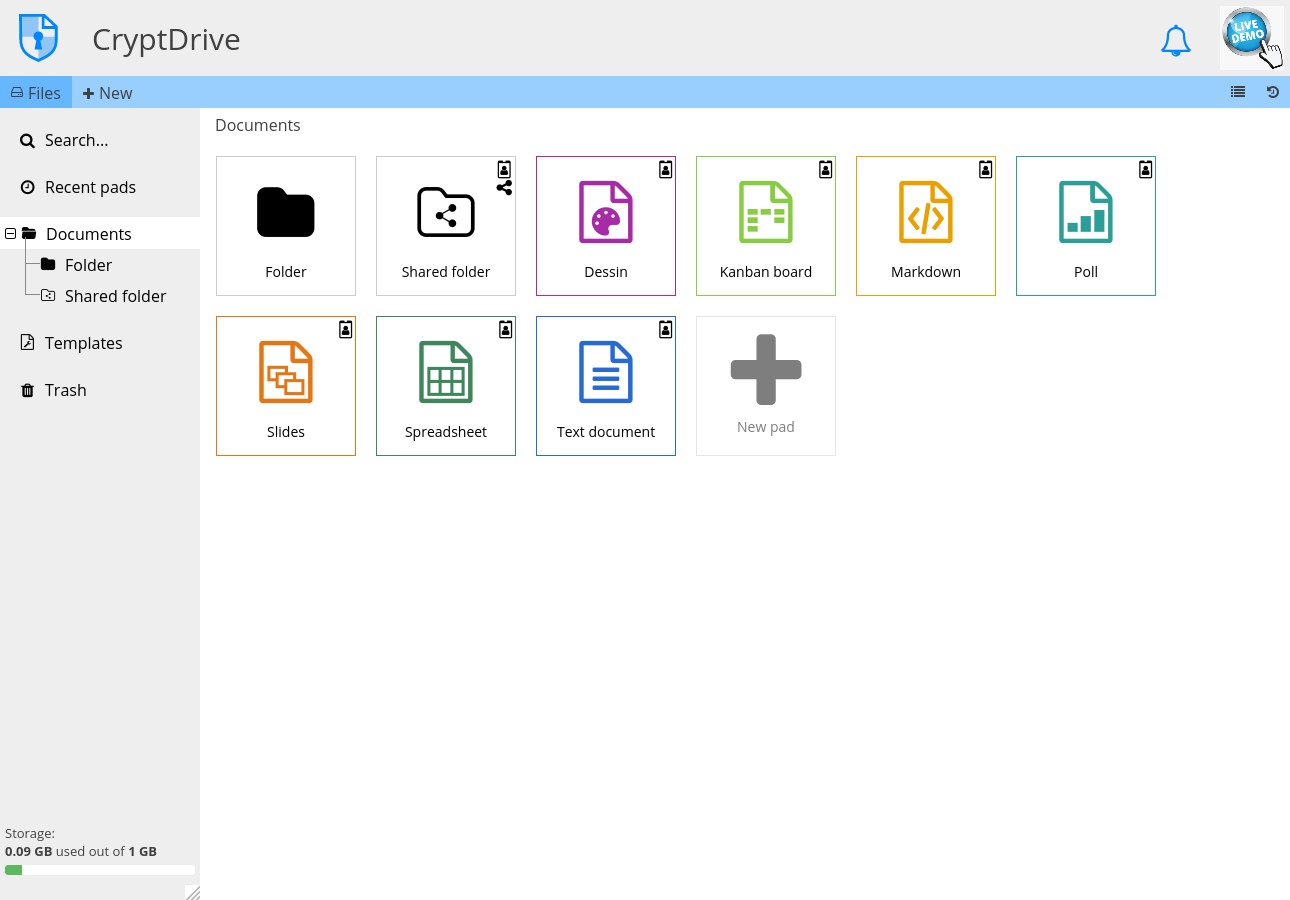 CryptPad is an open-source project developed by XWiki, a French company. It is a kind of Google-like office suite that anyone can access online without having to register. It includes a word processor, a spreadsheet application, a code editor and a presentation tool, among others. Documents can be easily shared by simply sending the URL code that is generated randomly.
The main advantage of CryptPad apart from its simplicity is that it is a suite designed from the ground up to be secure and private. In fact, there is a special option whose activation makes unused documents self-destruct after three months (unless you register). CryptPad is perfect for real-time collaboration while keeping data private. All documents are encrypted and decrypted in your browser, so they are unreadable outside of the editing session. Even the service administrators can't have access to your content.
Everything is stored on the cloud servers. You can also download documents, share them or chat with people you invite for collaboration. There is also a possibility to store documents within CryptDrive. It's a file management platform where you can create folders and tags to organize your files (PDFs, photos, video, audio, etc.).
In addition to being open-source, CryptPad is free. That's why the CryptPad project is financed through crowd-funding, which is the closest thing to traditional shareware: you can try it out and, if you like it, you can pay the developers. Moreover, there is a premium pricing plan with extended storage, professional support and all the additional benefits.
Fidus Writer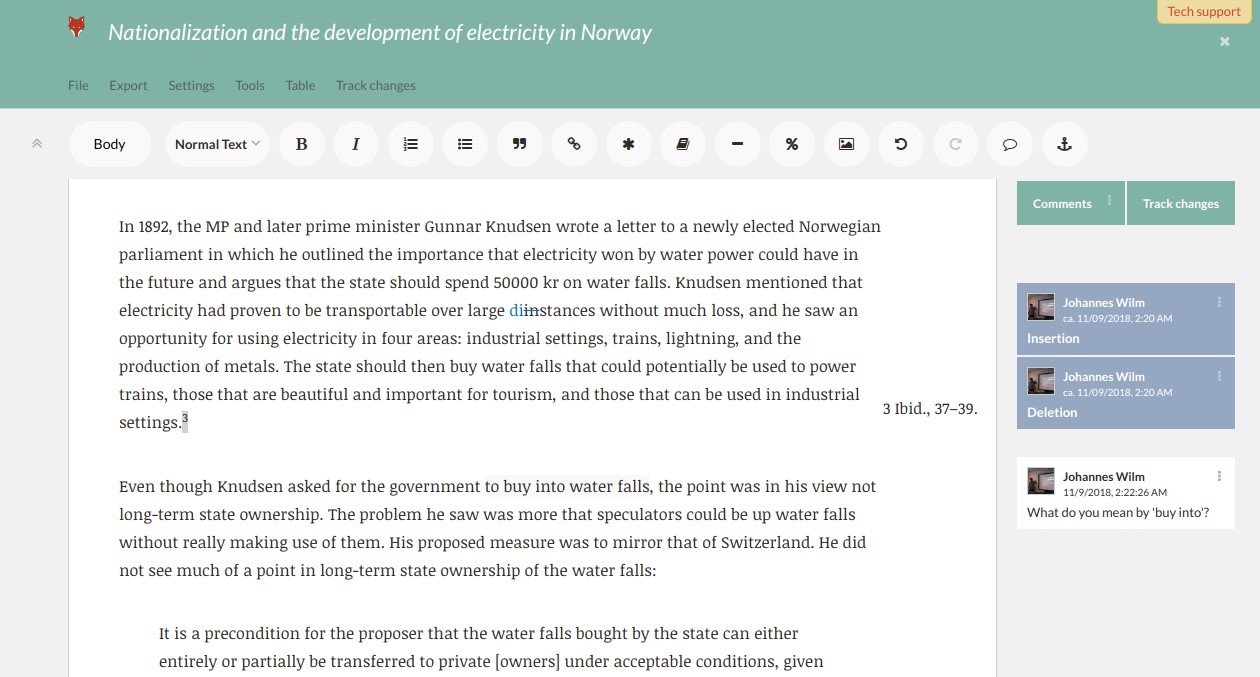 Fidus Writer is an online collaborative word processor for higher education and scientific research. This free tool is designed for managing quotes and formulas and allows users to create structured content without any special technical skills. It offers the possibility of publishing text in different formats for websites, newspapers and ebooks via export to HTML, EPUB and LaTeX. For each format, it is possible to choose the most suitable layout.
The main difference between Fidus Writer and other collaborative writing tools is its support for LaTeX, a composition system used to format and prepare academic documents. It is used to add notes and quotes to a document, allow for insertion and correct formatting of scientific formulas and mathematical equations and generate PDF versions of documents in plain text.
Anyone familiar with Google Docs should be comfortable while using Fidus Writer, It comes with a minimalistic interface, the ability to adapt to different kinds of documents and a WYSIWYG editor (what you see is what you get) with the usual formatting options (bold, italic, underlined) as well as academic-oriented features, such as a tool to insert quotes and formulas, images, etc.
Fidus Writer integrates various collaboration functions. The creator of a document can send invitations to his colleagues and grant them different access rights. Collaborators can write in the same document at the same time and also comment on parts of the text. In the same way as Docs, Fidus Writer keeps the different versions of the same document to allow you to revert to a previous version if you wish.
Fidus Writer is a very promising collaborative online word processor for the academic world, but it can be also helpful for casual users. The only drawback is that the tool is not designed for editing spreadsheets and presentations.
Have you ever tried any of the Google Docs above? If so, let us know which one is the best and why by leaving a comment below.