What Are The Best Home Theater Projectors To Have At Home?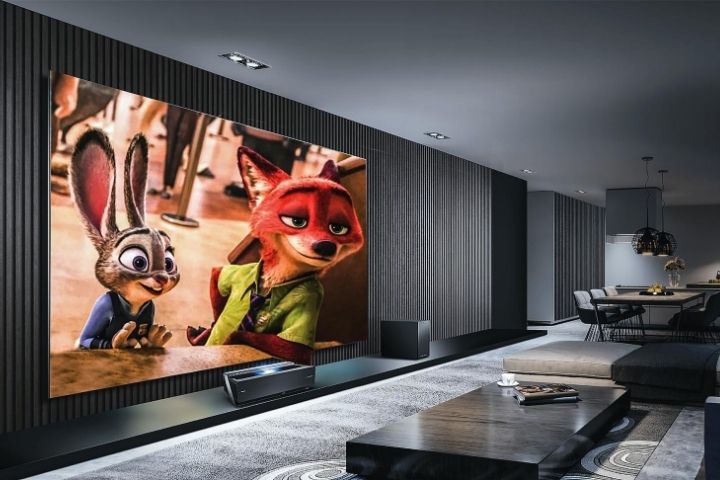 Projectors can be divided into three main categories: home theater, business, and portable. In this article, we will focus on those home theater projectors, ideal for following sports or watching a movie or Netflix series.
You can watch movies on a large screen with a projector, they occupy little space and that some of them are more affordable than a high-quality TV. It will be enough if you have a white wall available and you can find one of the best projectors in this article
ViewSonic PX747-4K
If what you need is a projector that uses DLP technology and has a native 4K resolution, and that at the same time offers good value for money, then you will find the ViewSonic PX747-4K a more than a decent option.
Its price makes it one of the most affordable Ultra HD projectors on the market today. It is true that not all that glitters is gold and there are some buts, but for example, the shine it offers is excellent.
It does not differ much from other models of the same manufacturer. Comparing it to the ViewSonic PX727-4K, the main difference is found in the color gamut. One of the things we like the most is the sound quality.
It is a project designed to be used definitely at home. Its 4 kg of weight make it not an ideal travel companion, so we recommend buying it if you are thinking of installing it in a room in your home.
Basic Specifications
:
Native resolution: 4K UHD (3840 x 2160)

Projection system: DLP

Brightness: 2,200 ANSI lumens

Contrast Ratio: 12,000: 1

Zoom ratio: 1.2: 1

Connectivity: HDMI 2.0, HDMI 1.4, USB mini B, 1 speaker 10W

Dimensions: 332 x 261 x 135 mm

Weight: 4 kg
Epson EH-TW650
As other models on this list demonstrate, 4K projectors are expensive devices, so if you can get by with a native Full HD resolution, you'd better go for one like the Epson EH-TW650.
The great thing about this projector is that it is not only reasonably priced but also capable of delivering a sharper image than some similarly priced portable LED projectors.
One of the downsides of betting on this projector is that it consumes almost 300 watts and heats up quickly. In return, it offers horizontal keystone correction, zoom, and manual focus, while vertical keystone correction is automatic.
Although it seemed like a good idea to include Wi-Fi in the projector, the truth is that for practical purposes it is not. You can connect your smartphone or laptop to the projector and play a streaming video.
Basic Specifications:
Native Resolution: Full HD (1920 x 1080)

Projection system: LCD

Brightness: 3,100 ANSI lumens

Contrast ratio: 15,000: 1

Zoom ratio: 1.2: 1

Connectivity: HDMI, USB 2.0, VGA, wifi 802.11 / b / g / n, 1 speaker 2W

Dimensions: 302 x 252 x 92 mm

Weight: 2.7 kg
Optoma UHD300X
The Optoma UHD300X projector is still reasonably priced considering all the features it offers and the sky-high prices of other devices of similar quality.
It is better value for money than the ViewSonic PX747 as its dynamic image offers good brightness and good color gamut. The result will be a superb home cinema experience with HDR movies on a 100-inch screen.
Optoma offers a wide variety of projectors for all uses, but this one lets you enjoy sharp images with depth of color and brilliant contrast, making it ideal for movies, games,s, or sports lovers alike.
You can complement the experience with quality, easy-to-install projector screen from the same company, or with one of the mounts also sold through Amazon, such as the Optoma OCM815B or Optoma OCM815W.
Basic Specifications:
Native resolution: 4K UHD (3840 x 2160)

Projection system: HDR

Brightness: 2,200 ANSI lumens

Contrast ratio: 250,000: 1

Zoom ratio: 1.3: 1

Connectivity: HDMI 2.0, HDMI 1.4a, VGA, USB A, 2 speakers 5W

Dimensions: 392 x 281 x 118 mm

Weight: 5.22 kg
BenQ TK800
The BenQ TK800 is not a 4K projector strictly speaking. However, it is capable of emulating the results that we would obtain with projectors of this type quite well and offering an experience that the average consumer will like.
The color rendering is decent and it offers an ANSI lumen count capable of fighting ambient light. The price may not be the most striking thing about this model, but it is in the line of many other home theater projectors.
Regarding its exterior design, it is almost the same as the previous model but with a very notable difference: the blue front. It's not what we like best about the BenQ TK800 and generally, we would have expected a more ergonomic experience.
You can control the browser using the buttons that you will find on the projector itself or use the remote control -with backlit keys- that it includes and that we personally find very useful.
Basic Specifications
:
Native Resolution: 4K2K (1920 x 1080)

Projection system: DLP

Brightness: 3,000 ANSI lumens

Contrast Ratio: 10,000: 1

Zoom ratio: 1.2: 1

Connectivity: HDMI 2.0, USB A, USB mini B, RS232, 5W speaker

Dimensions: 353 x 135 x 272 mm

Weight: 4.2 kg
Prizm II By Nebula
Nebula's Prizm II projector is a very good option at a good price. If you already have the original Prizm, it may not be worth it, although the truth is that the novelties that Anker includes in the latest projector should be taken into account.
For example, the Prizm II has a brightness of 200 ANSI lumens, which, although it cannot be adjusted manually, is still twice as powerful as the previous model. The contrast ratio has also been improved, now being 1,500: 1.
In the section that you will notice the difference, the most are in the native resolution. With the latest model, Anker has packed 1080p Full HD resolution, a rarity among projectors at this price point, and a step up from the previous 480p.
Of course, we recommend that you bet on the Mars II of the same brand if what you are looking for is a portable projector that has Android installed. With the Prizm II, you will have to settle for connecting another device using the HDMI or USB ports
Basic Specifications:
Native Resolution: Full HD (1920 x 1080)

Projection system: LCD

Brightness: 200 ANSI lumens

Contrast ratio: 1,500: 1

Zoom ratio: N / A

Connectivity: HDMI 1.4, USB A, AUX output port, 2 x 5W speakers

Dimensions: 279 x 265 x 97 mm

Weight: 2.42 kg